Features To Watch Out for in Latest WordPress Version 5.3 "Kirk"
WordPress
WordPress is one of the most popular CMS that has released its latest version, WordPress 5.3 "Kirk" on November 12th 2019. The latest WordPress version is filled with lots of features like refinement and expansion of block editor on top of enhanced accessibility and intuitive interactions. 
There are also wonderful features in the editor that enhance the design freedoms and also provides extra layout options and style  variations which encourage designers to take control over the look of their website. There are a lot more things to talk about when it comes to the latest WordPress version. 
A Brief Overview of WordPress Version 5.3 "Kirk"
WordPress website development has received a tremendous boost after the launch of WordPress 5.3 "Kirk" as it is one of the most refined versions ever launched by WordPress. However, if you think that is all, then you are in for a shock. The exciting thing about this launch is the new update that is named after the famous jazz musician Rahsaan Roland Kirk.  
The great thing about this WordPress version is that it provides a class-apart user experience with an enhanced block editor. You can also effortlessly update or download the latest edition of WordPress from the dashboard. 
It even consists of a modern default theme named Twenty-Twenty, modern block editor features, and user interface improvements.
The New Features Included in WordPress 5.3 "Kirk"
Block Editor (Gutenberg)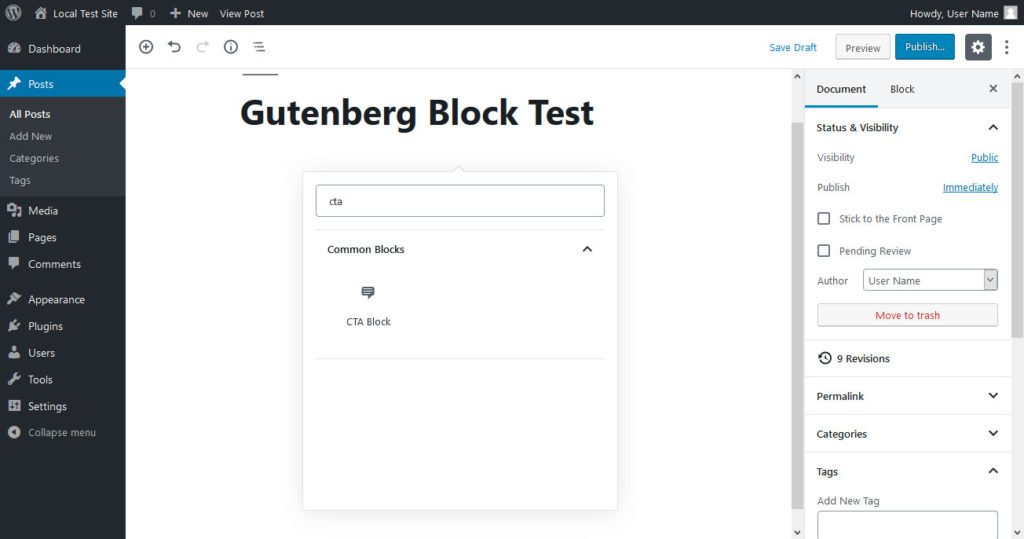 The latest version of WordPress has laid more emphasis on refining and expanding the WordPress Gutenberg Block Editor, which was introduced in WordPress 5.0. The amazing part is, it includes the current state of Gutenberg, version 6.5, into the core, which is a great update. 
Some of the amazing improvements in this release are Twenty Twenty theme, admin interface enhancement, improved image handling, and others. Let's now summarise the essential changes that you will see here:
Grouping interactions and Group block

Improvement in gallery block (reordering inline, caption support)

Consists of an accessibility navigation mode that assists in navigating with the keyboard between blocks without going into their content.

Improvements in column blocks
The other amazing part of the block editor is that it is incredibly lightweight. The page-load has also decreased drastically from 60 milliseconds to 40 milliseconds.
Provides More Design Flexibility
WordPress 5.3 integrates more robust tools for creating ingenious designs like:
Now the column block supports fixed column widths.

The new group block assists in effortlessly dividing your page into colourful sections.

The heading blocks assists you in providing more control over background colour and text.

With the help of predefined layouts, it is possible to arrange content into advanced designs easily.

You get an additional style option through which it is possible to set your preferred style for any block that supports this feature.
Support for High and Large Resolution Image
WordPress 5.3 "Kirk" provides enhanced support for uploading large and high-resolution images. The great thing is, now it detects large images that assist in automatically generating a web-optimized maximum size. The images get instantly resized to 2560px while uploading. In case, the uploaded image is automatically resized, the scale will be integrated at the end of the file name. In the case of server timeouts, WordPress will retry generating image sizes if it failed to upload earlier.
Superlative Performance
The new version of WordPress consists of more than 150 new enhancements and features including larger size images and high-resolution pictures that can be uploaded, which means you end up getting beautiful images for your website.
Introduction of a Brand New Theme Twenty Twenty
WordPress 5.3 "Kirk" consists of a new default theme "Twenty Twenty" which has been designed keeping in mind Gutenberg with a triple post/page templates and a solitary column layout. WordPress admins and designers are free to create custom layouts with the help of the Block editor, thanks to this version update.
It provides enough flexibility, which is excellent for business or organisation which enables you to include columns, media, and groups with extensive and comprehensive alignments to create dynamic layouts to showcase your products and services.
Effortless Navigation Mode
With the help of the navigation mode, it is possible to shift from one block to another without the help of arrow keys or tabs. Now, it is possible to go to the Edit Mode from the Navigation mode by hitting Enter or Esc key.
Website Health Tool Alterations and Enhancements
The new WordPress version also introduces site health toll and enhancements. It enables you to scrutinise the state of your WordPress installation. With the help of an assortment of tests, it assists in finding out problems, recommend fixes, and report in case any seriousness is found. It enhances the tool by making minor alterations in the user interface, which includes altering the presentation of suggested repairs and shift the score grade with one or two states, i.e., Good or should be improved.  
In case, you get an email from WordPress warning about a pertaining problem in the website; now you can get critical information to assist you in debugging the situation.
Comes with an Advance Admin Email Verification Screen
The new version comes with a modern security feature wherein you can see the new administration email verification screen. You can see this screen pop-up every six months once you connect as an admin and prompting you to confirm your website email address. With the help of this screen, it is possible to scrutinise whether your website administration email has not been changed unexpectedly. In case you find it has changed without your knowledge, it would be the right time to deal with the security issues.
Enhancements in Loading Time
Thanks to the code optimisation, there has been a great improvement in the overall loading performance. If you test 1000 blocks/36000 words, it can reflect an improvement of approximately 1 second of loading times.
Enhancements for Developers
Compatibility with PHP 7.4
The latest version of WordPress is fully compatible with PHP 7.4. There are multiple changes reflected in this release. This includes eradication of deprecated functionality and working towards compatibility. It gets rid of all the old functionalities to ensure that there is complete compatibility with the latest PHP version.
Date/Time Component Fixes
Thanks to this update, now developers will be able to work with dates and timezones more reliably. There are several brand new API functions for PHP interoperability and one timezone retrieval in terms of date and time on top of different bug fixes.
Final Thoughts
WordPress 5.3 Kirk has brought about lots of changes to the CMS. It enhances the website performance, provides better accessibility, and ensures better user experience. Wish to take advantage of WordPress Version 5.3 "Kirk" by using efficient WordPress development services? If yes, hire WordPress expert from an experienced WordPress development company today!
For more information, click here.