7 Reasons Why Ecommerce is Growing Bigger & Bigger
E-Commerce
One industry that has seen rapid growth even in the Covid-19 pandemic is the eCommerce industry. 
Do you remember those days of busy queues, weekend rushes in the malls, and inconvenient and uncomfortable shopping experiences? Well, I am not talking about ancient times. Before 15-20 years, online shopping was very new, and people felt hesitant to buy online. 
However, if we talk about today, just US ecommerce will cross $1 trillion by the end of 2022.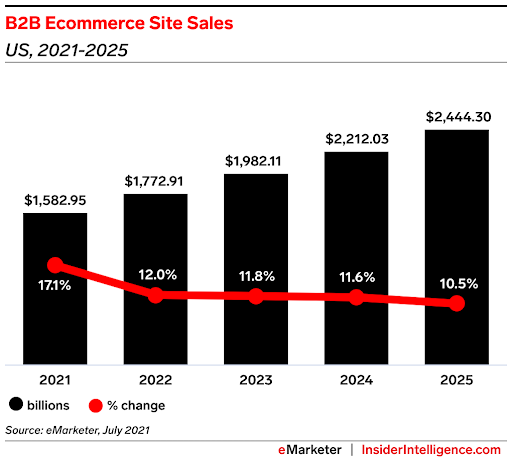 [[image source: https://bit.ly/3vpBf5d]]
As shown in the image, the B2B ecommerce industry, as per the experts, will grow exponentially in three to five years. 
Online shopping offers you comfort, convenience, and reliability. You can order food or products while sitting on your couch, sipping your coffee. Also, you can easily return or replace the items if you are not satisfied with them. 
Gone are the days when you had to drive out to a nearby shopping mall for grocery shopping. You can order groceries while sitting in your parking lot, thanks to technology. 
In addition to that, online shopping saves you time. It is the most surprising reason why people are crazy about online shopping. 
Just imagine you are looking to buy a razor. The nearby store is 2 km away from your home. You will walk or drive to the store to buy a razor. Even if you go there and come back, it will cost you at least 15 minutes. 
With an ecommerce app on your smartphone, you can instantly order the razor.
Also, retail stores have limited options when it comes to brands. On the other hand, you will find thousands of options to choose from when you shop online. You can find something within your budget without compromising the quality. 
Online shopping is here to stay and will rule the world in the upcoming years. If you want to sell online, you can hire an ecommerce website development company to design a feature-rich, highly functional, and attractive website.
This post discusses some of the main reasons why the ecommerce industry is growing bigger. 
We will discuss a few reasons to understand the topic better. 
Urbanisation is the Main Contributor to eCommerce Growth. 
Yes, across the globe, people are moving to cities, contributing to the rise of urbanisation. People are more inclined towards online shopping as they find it more convenient. Also, the population density somehow solves the logistic challenges that online sellers face. It is also one reason why ecommerce is growing mostly in city areas worldwide. On the other hand, online shopping is not a regular practice in rural areas. Rural people still prefer the old ways when it comes to shopping. 
 FMCG and Food Delivery Will Contribute a Lot 
Earlier, online shopping was restricted to price-elastic consumer items like books, electronics, apparel, and home furnishing products. However, in the last 5-10 years, the global ecommerce industry also started dealing in fast-moving consumer goods (FMCG) such as food, toiletries, and beverages. 
Across the globe, independent manufacturers and sellers have started their online stores in these categories, and the growth of the ecommerce industry skyrocketed. Even in the covid times, people mostly ordered grocery and food items online compared to apparel and electronic items. Even in the upcoming years, FMCG and food delivery services will dominate the ecommerce market. 
Traditional Retailers Are Also Becoming Online Sellers 
Even if you have a very limited product range, you can sell your products online without developing a store. You can use Amazon and other online marketplaces to sell your products. These small traditional retailers are also turning into online sellers and contributing to the growth of the ecommerce industry. It is very easy to set up your store online, and you can instantly start selling products. 
Traditional retailers now understand the importance of ecommerce and want to reap all the benefits it has to offer. This is one of the main reasons why the ecommerce industry is booming like anything. 
The World Has Become A Global Village 
Even if you are a local manufacturer or seller, you can sell your products to anyone. Online shopping has made it possible for sellers to sell their products worldwide. We are so advanced in technology and connectivity that you can have products and services not produced locally. The whole world is a global village, and you can have the world as a whole as your target audience. If you sell high-quality products and services, the sky is your limit. 
You Have Data 
Data is a new power, and when you have data, you can better design your sales and marketing strategies. You have data to leverage to increase your sales and revenues when you sell online. This data is in consumer behaviour, their contact information, products purchased in the past, store behaviour, and other insightful information. You can use this data to make your policies and business decisions. You can clearly understand what people are searching for and how to make them content. Data can work in your favour if you know how to use it. 
Mobile Adaptability 
Smartphones and tablets are generating more web traffic than desktops and laptops. Even online sellers ensure that they have a mobile-responsive ecommerce website design. An ideal online store must offer users a highly satisfying and enriching experience. Also, most ecommerce brands are coming up with mobile applications to facilitate their consumers with more convenience. 
In addition, voice-activated shopping and superior connectivity have also impacted a surge in online mobile shopping. Customers don't have to wait for a computer to place an order. They can do it from their mobiles. This is the most convenient and powerful thing for generation Z and millennials. They love online shopping as they don't need anything except the mobile phones they usually carry. 
Individualised Products and Services
Online sellers can offer personalised products and services to their customers. This is the primary reason why people love online shopping. When you visit any brick-and-mortar store, you have limited options. It is not the case when you visit any online store. 
Online sellers have highly sophisticated algorithms and data to offer more personalised, customer-centric products and services. They know exactly what you are looking for. They know your individual preferences, buying patterns, and purchase history. 
When you see such personalised product recommendations, it will encourage you to buy things. Also, online sellers are now targeting niche markets with superior customised options. You can have more size options, colour options, and design options that suit your individual preferences. 
Conclusion 
The ecommerce industry is booming like anything, and it will never stop. The covid-19 pandemic has shown us the importance of the ecommerce industry. Online sellers have become more customer-centric with more advanced technologies such as artificial intelligence and machine learning. In addition to that, when it comes to ecommerce website development, there are highly sophisticated technologies and platforms to develop a website. Combined, all these things ensure that the ecommerce industry grows without any hurdles and hindrances.